Despite the Covid lockdowns, some visitors did indeed make it to Sitges for the Summer of 2020. Visitors were in general, very well behaved and upheld social distancing and mask wearing. But there was still time for some fun moments, especially on the beach.
It appears the case of "Less is more" definitely applies to your "most liked" images this past 12 months, and who can blame you. Enjoy our top 9 Instagram moments and we hope to see you again in 2021! – Start planning with these hotel deals and apartments today.
1. Calipolis Balcony View!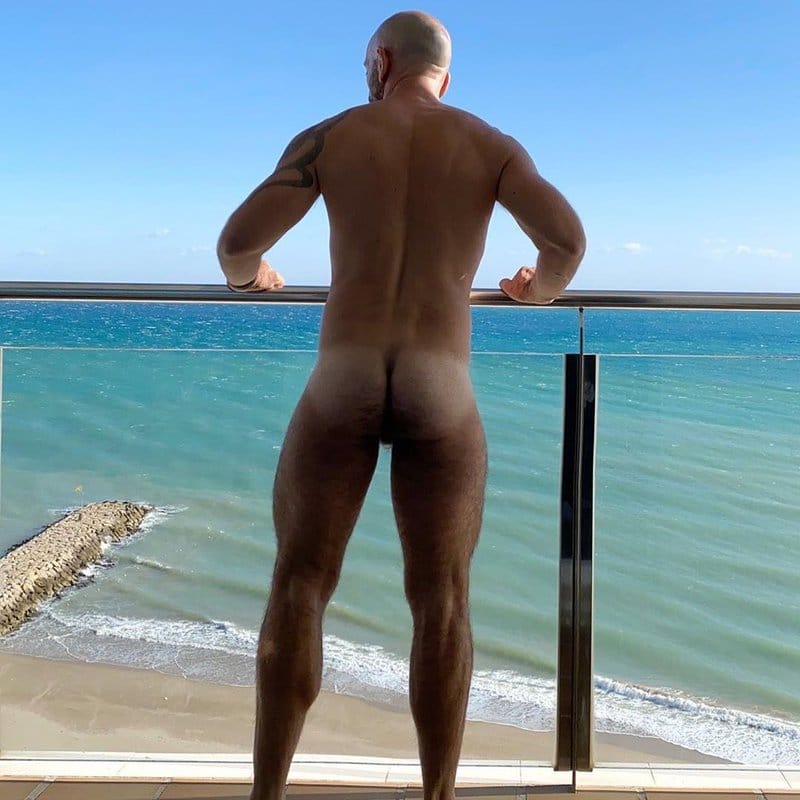 Coming in at No, 1 we have this nice balcony view from the Hotel Calipolis in Sitges!
2. The Balmins Shot!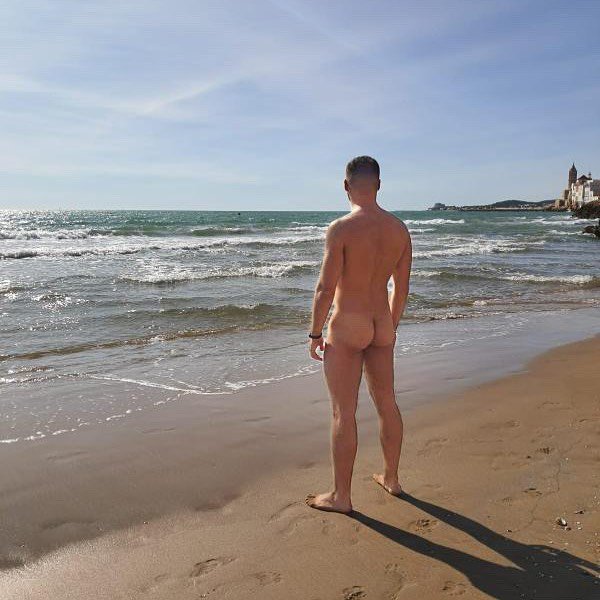 Let it all hang out on Balmins Beach. Located on the other side of the church, the beach is a welcome breath of fresh air, attracting guys of all types with its warm and welcoming atmosphere and carefree attitude. The beach is nudist optional. Check out our guide to the best gay beaches in Sitges.
3. Tanlines in Playa del Muerto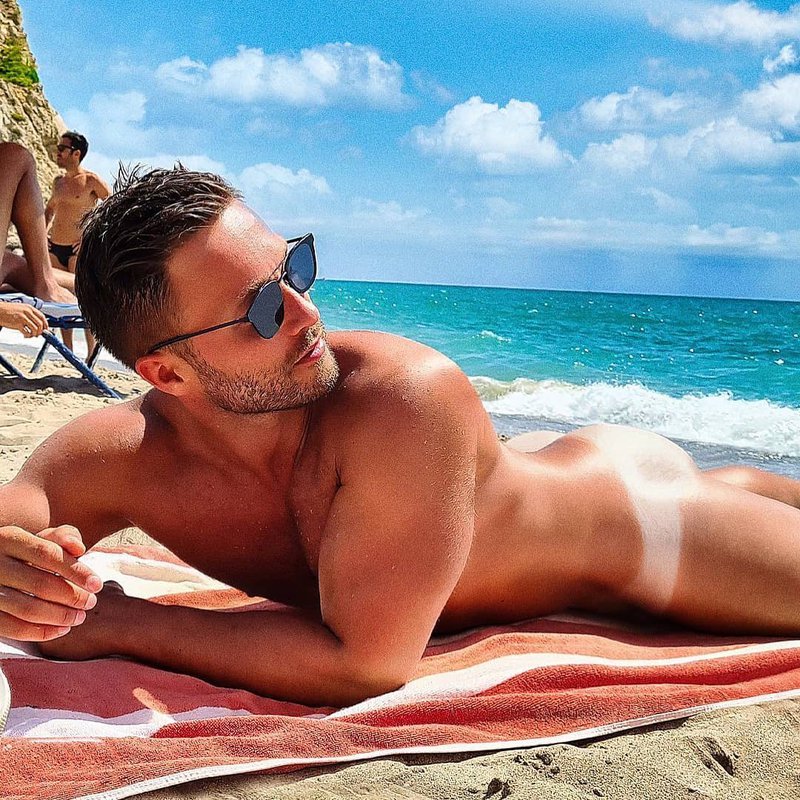 The beach at Playa del Muerto is the oldest gay beach in Spain. With a charming beach club and "magic cruising cave" and "fantastic forest", the beach is one of the most popular day time cruising spots in Sitges. The beach is also the perfect place to show off your tan lines! For directions visit the beach guide.
Hotels closest to Playa Del Muerto include The 5 star Dolce, The Hotel Sunway Apart hotel and the trendy ME Terramar.
4. Packing Essentials in Vinyet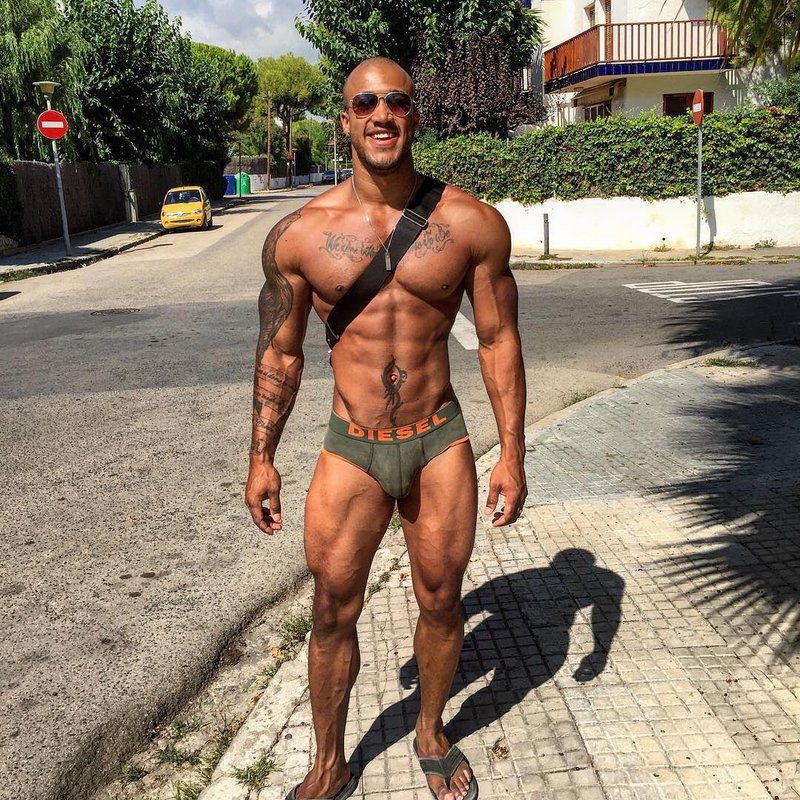 Sitges has some great shops for swim trunks, so you need only pack your essentials when visiting! This photo was taken in Vinyet, Sitges upscale neighbourhood and home to some stunning beachfront villas.
5. Memories of Sitges Bear Alley!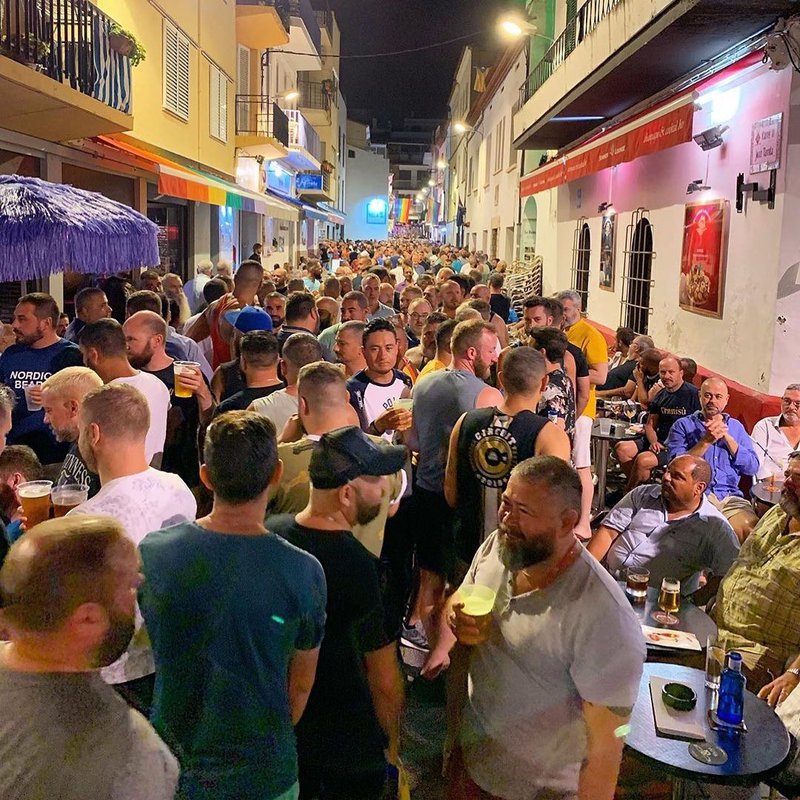 The International Bears Meeting in Sitges is one of the biggest gay events in Europe, attracting 5,000+ bears and admirers to Sitges every September. The event was cancelled in 2020, but is set to return in 2021!
6. Almost nude in Playa del Muerto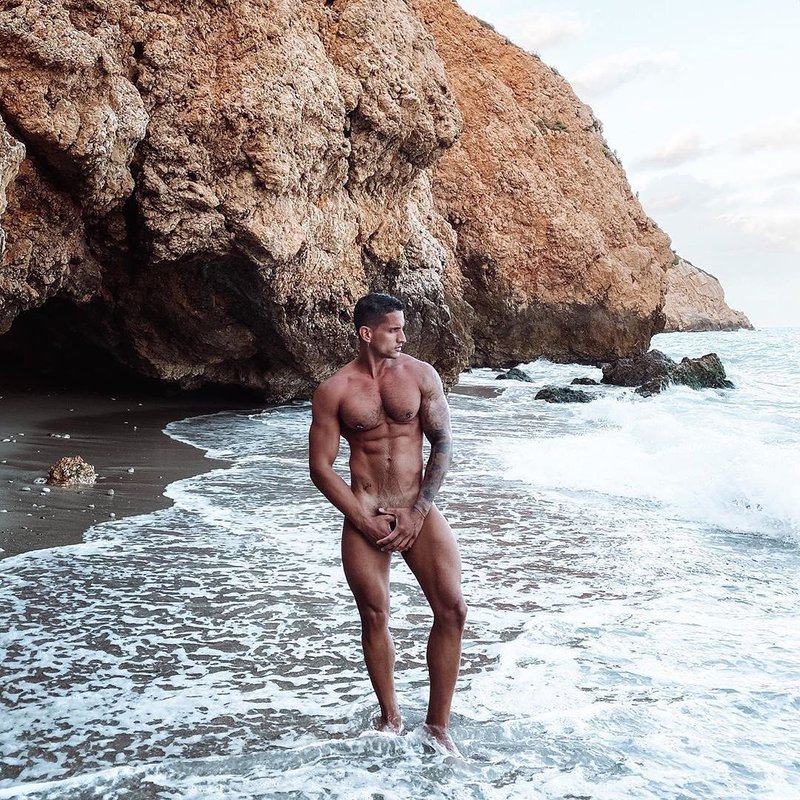 In at number 6 is the stunning photo taken at Playa Del Muerto! The beach is the perfect place for some great shots and has been used as a backdrop in many famous fashion and event campaigns in the past.
7. The view from behind!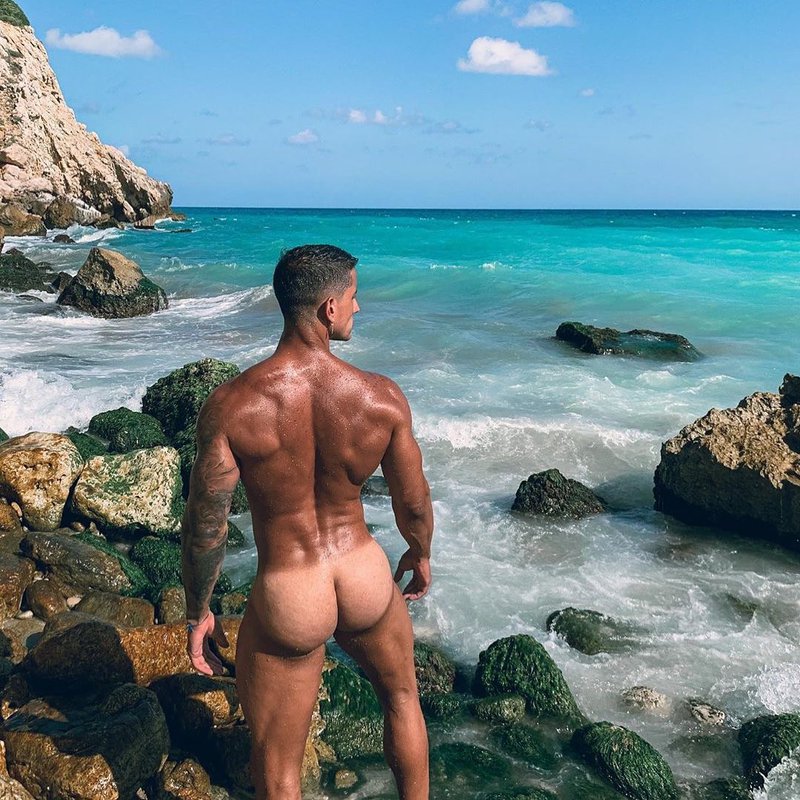 Yes, this is the same model as in the previous photo, just a different angle.
8. I want to hold your hand!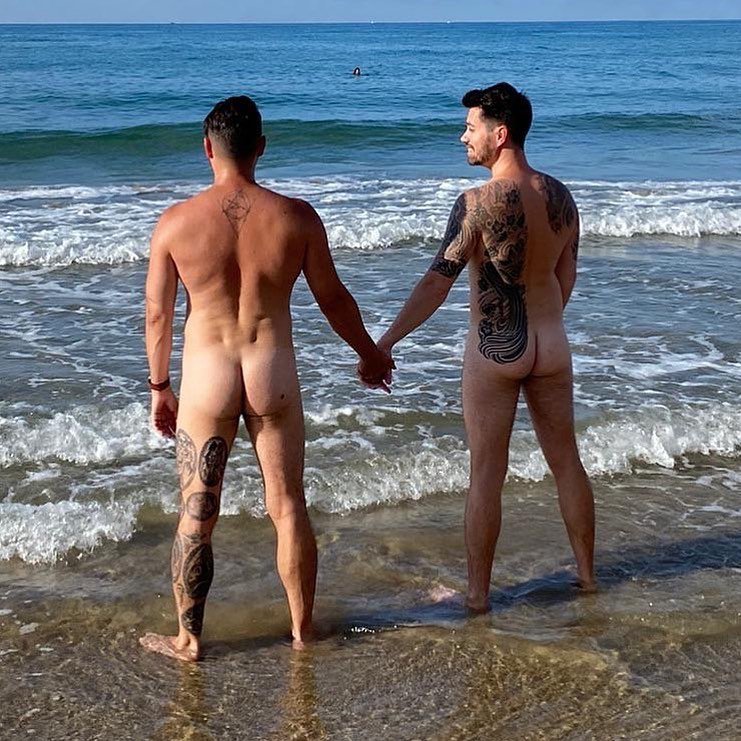 A recent survey showed that 6 in 10 LGBTI people are afraid to hold hands in public. Sitges has long been a refuge for people looking to escape the narrow minded! Love who you want here and hold hands with whoever you wish, wherever you wish.
9. All aboard!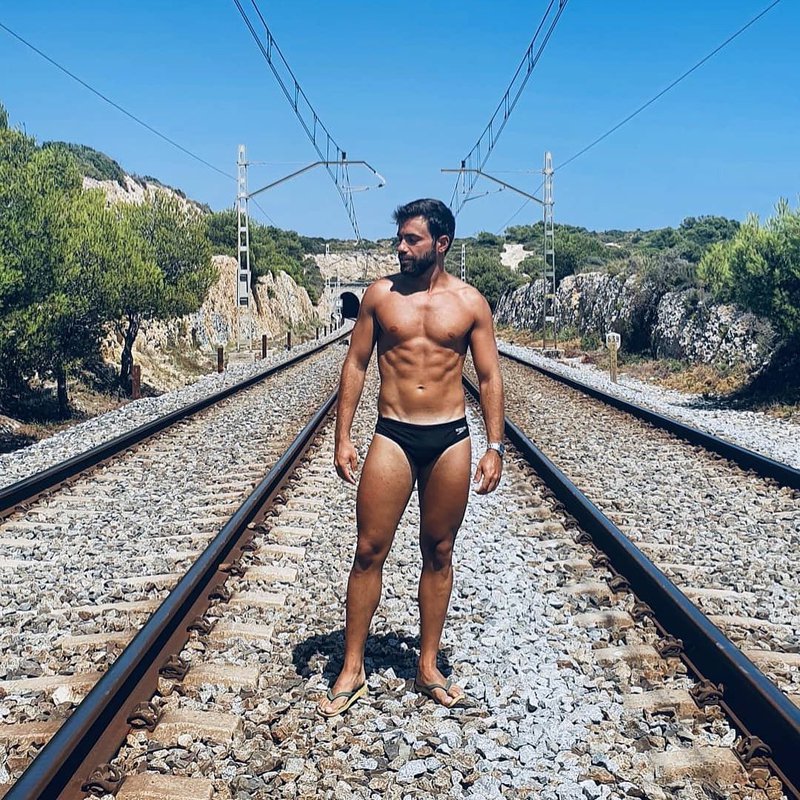 This photo was one of the most commented, with many worried about our speedo-clad travelers safety! The journey to Sitges Playa Del Muerto can be arduous but we do suggest you go over the hill and avoid using the train tracks! However the tracks do seem to have become an "Instagram" hot spot over the past few years!
Join us on Instagram in 2021 for more great photos and updates on Sitges and hopefully you will get to take your own shots on your next trip! If you want to be featured then just tag your photo with #gaysitgesguide!
Check out our 5 top places to stay in Sitges for the perfect socially distanced escape.