Escape to Sitges this Christmas and Enjoy a festive occasion by the beach!
Sitges at Christmas is a chilled affair, but the bars and hotels that are open are warm and welcoming and the atmosphere is relaxed and friendly. Restaurants have special menus for Christmas Eve, Christmas Day and New Year's Eve and most of the bars listed are open each night until late. Public holidays and weekends are full.
If you are looking for something different at Christmas then an escape to Sitges might just be what you are looking for! Be aware, this is Winter time, so don't expect the crowds you might see during Carnival or at the height of the Summer Season. That said, the bars are still busy at weekends and on public holidays and weather permitting you can enjoy al fresco dining by day and a cruisy atmosphere at night!
Most of the bars listed are open throughout the Christmas period and during New Year's Eve. Dining out during the Christmas and New Year Season is a big affair so check out the Facebook pages of the recommended restaurants for the latest details on their special menus and opening times! Reservations are recommended.
Meanwhile all of the bars listed below will be open during Christmas and/or New Years Eve so you can be sure of plenty of options to celebrate the arrival of 2015 in Style. Check out the bars section for a complete listing of the gay bars in Sitges.
Recommended BARS AT CHRISTMAS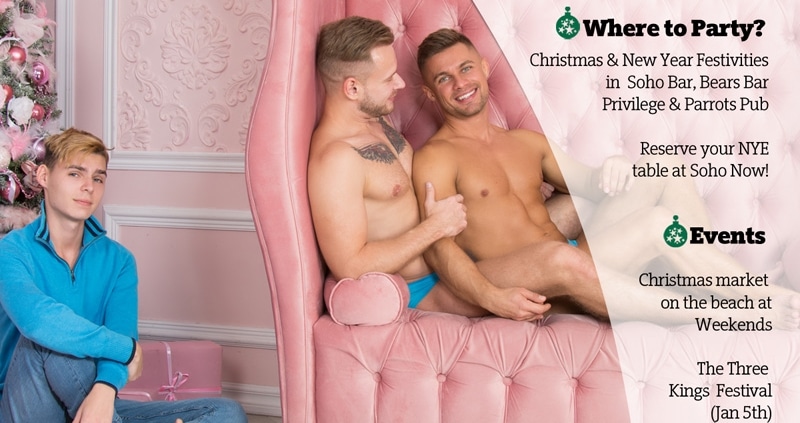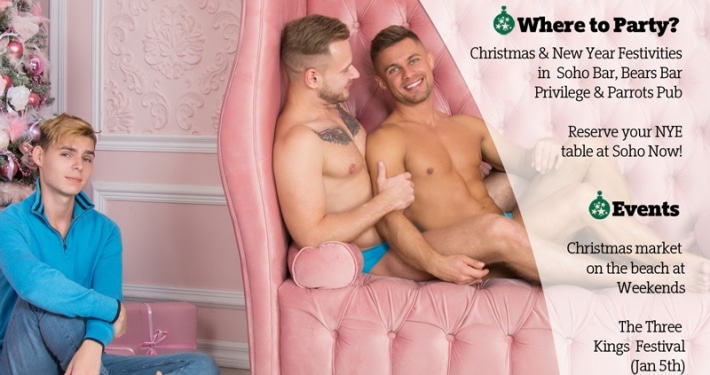 Celebrate the arrival of the new decade in Sitges with our party guide to the best dinners and events in the Village. Plan early and book in advance.
Recommended RESTAURANTS AT CHRISTMAS
Stay in the HOTEL SUBUR in Central Sitges for Less this Christmas/New Year Season
The Hotel Subur is located in the heart of Sitges, right opposite the gay beach and offers great value for money, simple clean rooms and a great breakfast.
Previous Coverage of CHRISTMAS IN SITGES