Montroig Cafe, Sitges
One of Sitges best known cafes with large terrace and delicious breakfasts and smoothies.
Address: Marquis de Mont Roig,11-13, Sitges, Spain
Montroig is the cafe that everyone knows in Sitges. Very Gay Friendly, Mont Roig provides the perfect vantage point to watch Sitges walk by.
Whether you want to relax over one of their delicious Cappuccinos or go for a healthy smoothie, there is something for everyone on their extensive menu.
Open from early morning to late at night, its perfect for those who want to eat to their own schedule. It also stays open right through the day.
Bright and airy, the cafe has a spacious feel. The seating outside is always popular, but the back terrace is just as nice to sit in the sun, under the shade of the trees.
From delicious breakfasts to home made burgers, everything is freshly prepared on site. And if you do want to get a seat outside, expect to wait at peak times. Either get their early or be patient. This is especially true during Sitges peak periods and during events such as Bears Week and Sitges Pride, but its worth the wait.
Mont Roig Provides everything from delicious breakfasts to tempting salads and everything inbetween!
Montroig is open every day from 8am until late.
The cafe is open throughout the winter with a break at the end of December (Check their facebook for details)
€ – From 10 Eur per person

From delicious breakfasts, to smoothies, pizzas, burgers and tasty desserts and coffees.
Send a message to Montroig
Recommended Restaurants
Download the Gay Sitges Guide App!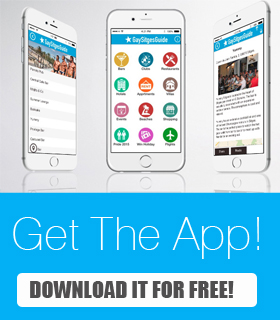 SAVE UP TO 70% ON HOTELS
Find a hotel deal today!
2,574,000+ hotels, homes, apartments, and other unique places to stay...