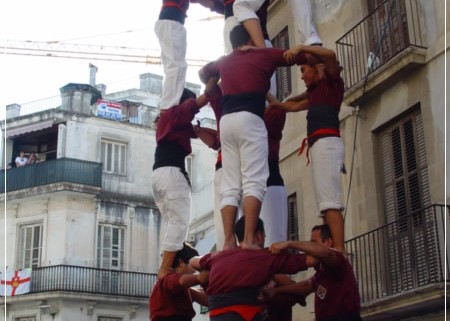 It's here… at last… Fiesta Mayor has taken off with a bang… and boy have we been partying. Loads of photos to come, but here is a short round up of what's been happening.
Yesterday, Wed, the Castellers performed in the Cap De La Vila.. We have some videos which we will upload later on this week.. but here is a taste. The strength of the men holding the people up is simply amazing.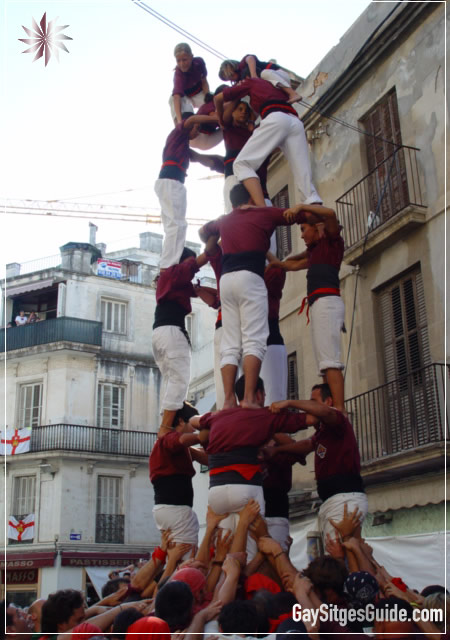 The fire deamons were out in force aswell. People wear white straw hats and glasses as these guys take aim at you with their fireworks. Dodging the fireworks while trying to get a photo has become a sport in itself.
The dragon is another feature of the Fiesta. Fireworks are placed in his mouth and tail and then … woosh… they run him up the street… get out of the way fast!
During the afternoon the girls and boys were out in traditional dance costumes. Getting a close-up was great fun.
Not to be outdone by the girls, the boys go at it with sticks… big time.
The fireworks that evening were spectacular. I have never before seen a firework show like it. We were very lucky, the rain held off for the entire event. We were treated to a pre-firework show when the lightening light up the sky for half an hour beforehand.
This was the first time I saw fireworks on water. They had a mind of their own and moved literally like little ufos… not straight up but in circles and zig-zags. Even the fireworks aren't straight in Sitges.
The beach was packed with people who took the time to have the odd glass of Cava while waiting for the fireworks to begin.
The canons were set just off the jetty and the fireworks were timed to go off at intervals, making their own marching tune.
The church was the focal point for the festivities and was light up completely with a stunning firecurtain.
Fireworks were launched from the belltower and the entire church was lit up for all to see.
At the end of the night people partied… and partied.. and partied.. The foam party in Trailer lived up to its lively reputation.
The boys danced the night away…
Finally, it wouldn't be a proper blog if we didn't point out our two favourite boys of the day.
Simply lovely
Stay tuned for more.. the galleries will be updated this week. Now on with the party!
https://www.gaysitgesguide.com/wp-content/uploads/castellers.jpg
640
450
keith@gaysitgesguide.com
https://www.gaysitgesguide.com/wp-content/uploads/logo-gsg--300x123.png
keith@gaysitgesguide.com
2006-08-24 19:55:22
2006-08-24 19:55:22
Full Swing Fiesta Mayor