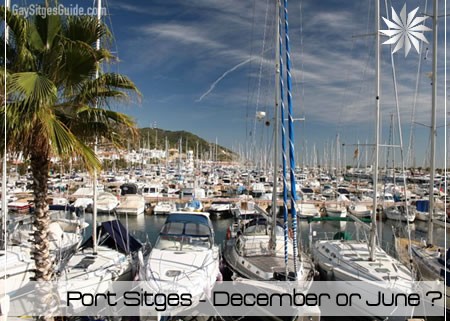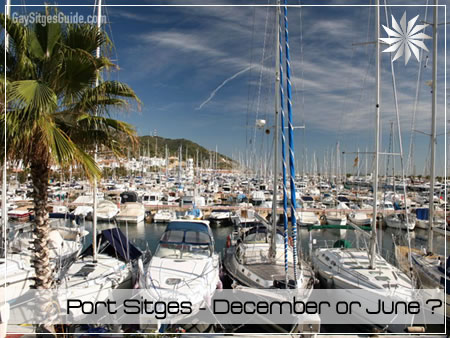 At the moment it appears that everyone in Sitges and Barcelona is obsessed with the weather. We used to think that this was and Anglo-Celtic facination, but it appears that the weather-de-jour has captured the everyone's attention in Spain. And its no surprise really. Yesterday it hit 24 degrees in Barcelona.
This is odd, even for here at this time of year. And no, we're not complaining. But is is strange to walk around and see people dressed in Summer clothes while you listen to Christmas music and admire Chrimstmas lights (well it is wierd in Europe… maybe not so where Christmas is a Summer event).
So on our way back from Barcelona we stopped off at Les Botigues de Sitges, a little-know small part of Sitges which can only be reached via the coastal road. A friend of ours recommended we take a camera, as its home to one of the most sandy beaches in all of Catalunya. It also seems to be a firm favourite with dog walkers. As its not really a tourist spot… it seems to be ok to leave your dog off its leash and to swim freely.
This guy's dog ran away… but he wasn't shy to pose for the camera.
Ahhh.. he found him!
This little doggie doesn't want to swim… and we don't blame him.. while it was hot out.. the water looked cold!
So cute…
On the way back to the car-park in Barcelona… we ran into these two who were totally engrossed in their music!
Enjoying a late night dinner in Sitges… always romantic…and the perfect location for a quiet get-away in December!
Come visit us..and see for yourself.
https://www.gaysitgesguide.com/wp-content/uploads/december-or-june-sitges.jpg
338
450
keith@gaysitgesguide.com
https://www.gaysitgesguide.com/wp-content/uploads/logo-gsg--300x123.png
keith@gaysitgesguide.com
2006-12-06 02:00:32
2006-12-06 02:00:32
… end of the world? Seasons Changing?