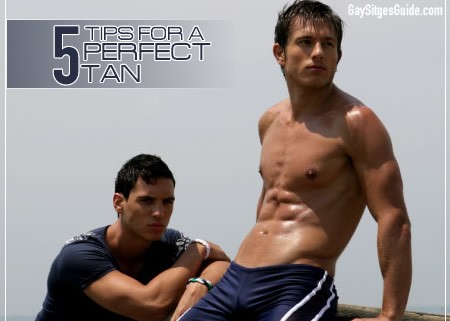 Tanning in Sitges – 5 top tips
We've seem quite a few boys looking very red this week… so don't look like a Spanish Gamba! Here are 5 indispensable tips for suncare this summer:
1. To find out how long your sunscreen will last, multiply the time it takes you to burn (with no protection at all) by the product's SPF to equal the amount of minutes' protection you'll get. As a rough guide, it takes a really fair guy about 3-4 minutes to burn whereas a guy with olive or Mediterranean skin can take up to 10 minutes.
2. Don't wait until you've found your spot on the beach before you slap on the sunscreen. Always apply your sunscreen at least half an hour before you go outside – it has to react with your skin in order for it to work.
3. Remember to reapply. Chances are you'll be swimming or sweating when out in the sunshine, so be sure to top up regularly as a lot of creams will slide off your skin.
4. Take breaks. Don't fry yourself from dawn till dusk. Go look for some shade every hour or so. And a drink.
5. An aftersun is just as essential as a sunscreen. Not only will it help repair damage caused by UV exposure but it will calm any irritated skin and redness. Some aftersuns will even prolong your tan.
https://www.gaysitgesguide.com/wp-content/uploads/tan-tips.jpg
338
450
keith@gaysitgesguide.com
https://www.gaysitgesguide.com/wp-content/uploads/logo-gsg--300x123.png
keith@gaysitgesguide.com
2007-05-26 13:18:17
2007-05-26 13:18:17
Tanning in Sitges – 5 top tips