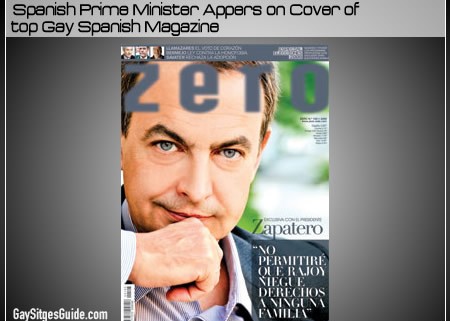 Spanish PM Appers on Cover of Spain's Top Gay Magazine.
We normally don't discuss Politics or Religion on this blog, however its very much the topic of discussion in Spain at the moment and this definitely deserves special mention. Spanish Prime Minister Jose Luis Rodriguez Zapatero made his third appearance on the cover of the Spanish gay magazine Zero this month in advance of national elections on March 9, using the occasion to warn the conservative Partido Popular against rolling back LGBT rights:
"'We will continue to make reforms to improve the conditions of all," he said in an interview with the monthly gay magazine Zero, where he appeared on the cover for the third time since 2002. 'We must facilitate the implementation of the rights that we have already approved: the right to adoption (for same-sex couples), of course, and the right to legally change sex,' he said.
If the conservative opposition Popular Party of Mariano Rajoy wins the election, Zapetero vowed to prevent 'a single step backwards' in the policies of his government. 'I will do whatever possible so that Mr. Rajoy does not withdraw the rights of any family,' he said. Spain became only the third member of the European Union, after the Netherlands and Belgium, to allow same-sex marriages in July 2005 with a law that also legalised adoptions by gays and lesbians. The measure was heavily criticised by the Roman Catholic Church in Spain and a section of the Popular Party.
The PP has gone to the constitutional court to challenge the use of the word 'marriage' in the law, and has vowed if elected to withdraw the right of gays and lesbians to adopt. Homosexuality was legalised in Spain in 1979, four years after the death of dictator Francisco Franco whose regime shipped gays to institutions that some activists have likened to concentration camps. 'We are the envy of other countries for what we have achieved (on gay rights), and we have the support of a lot of countries,' said Zapatero."
We wholeheartedly endorse his position and hope that Spain retains its liberal approach towards gay rights and equality.
https://www.gaysitgesguide.com/wp-content/uploads/spanish-election-2008-zapatero.jpg
338
450
keith@gaysitgesguide.com
https://www.gaysitgesguide.com/wp-content/uploads/logo-gsg--300x123.png
keith@gaysitgesguide.com
2008-02-26 23:49:01
2008-02-26 23:49:01
Spanish PM Appers on Cover of Spain's Top Gay Magazine.