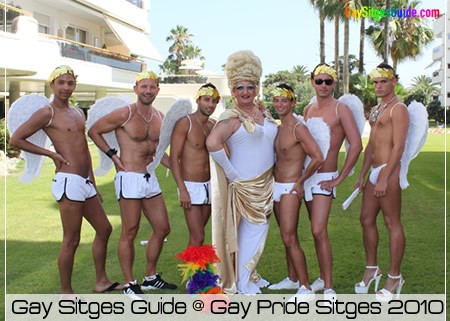 Gay Sitges Guide at Gay Sitges Pride 2010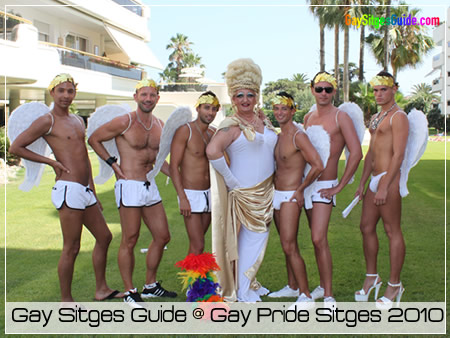 Hello everyone from Gay Pride Sitges… after a weekend of amazing work, fun and partying, its all about to end tonight with the Closing Party at the Gay Beach Party at L'Atlantida!
We are still waiting on official numbers, but no matter where you go or who you listen to, it was amazing, packed solid and a runaway success! To all those who said it would never happen… well.. thanks for the compliments over the past few days… and that is about as political as we get on Gay Sitges Guide!
A huge thank you to the Mayors Office, The Tourism Office, The Afgal Board, Afgal President Luis Enriquez, the volunteers and the businesses and people of Sitges who supported the event from the very beginning!
Our own special thanks to Miss Ruby and Lady Diamond whose dedication over Maspalomas and Barcelona Pride along with their spectacular performances at Gay Pride Sitges 2010 was nothing short of breathtaking.
The weather was perfect, the pride parade was amazing.. words simply can not describe the feeling in Sitges at the moment. As Lady Diamond said to a packed Paseo in Sitges.. Its like Christmas, Carnival and Fiesta Mayor all rolled into one!
And if you hear anyone telling you otherwise, they were either in the wrong town or the wrong mood..because the you would have to be crazy not to have enjoyed yourself in a FULL Sitges this Pride, as these photos prove.
Speaking of Photos, we had 2 photographers specially commissioned to cover the event as we did have our own float which made it difficult to give everyone coverage, so bear with us as we upload more than 4,000 photos of the event. Gay Pride Sitges also had an additional 6 photographers, plus the official press core, 5 television stations and a dedicated video team which will post content over the next week!
Finally, a huge thank you to my partner Andy for supporting me personally over the past year's trials and tribulations to ensure that Pride was a success. I am proud to say that his donation of our company's time and resources to AFGAL , together with the efforts of Luis Enriquez and the dedicated members of the AFGAL Board played a small part in making a little bit of Sitges History. Good Night and see you in Sitges for Pride 2011 – Dates coming Very Very soon! (Photo Galleries of all floats and events to follow on Wednesday).
https://www.gaysitgesguide.com/wp-content/uploads/gsg-float-sitges-2010-1.jpg
338
450
keith@gaysitgesguide.com
https://www.gaysitgesguide.com/wp-content/uploads/logo-gsg--300x123.png
keith@gaysitgesguide.com
2010-07-13 00:06:24
2010-07-13 00:06:24
Gay Sitges Guide at Gay Sitges Pride 2010