SoCa, Sitges
Delicious Southern California inspired cuisine with great cocktails and friendly service.
Address: San Gaudenci, 9, Sitges, Spain
SoCa blends the freshest Mediterranean ingredients with the healthy low-fat cuisine of California to deliver a healthy menu that tastes delicious.
Enjoy the warm and relaxed atmosphere in one of Sitges most spacious restaurants. The adventurous menu offers an authentic taste of California. From authentic Tacos and salads through to delicious Nachos and Seafood dishes, let SoCa transport your senses to the shores of Malibu or Orange County.
The international success of Californian cuisine, one of the healthiest in the world has reached the shores of Sitges. SoCa is the first Southern Californian Themed restaurant in Sitges. Sit back, relax and experience the true taste of genuine Californian cuisine with recipes and cocktails inspired from the cities of San Diego and Los Angeles.
The SoCa menu offers the perfect balance between price and quality. Whether for lunch from 1 to 4.30, a drink or cocktail at the bar, or a sumptuous dinner from 7pm, you can experience SoCa right through the day and late into the evening.
The décor of SoCa takes its inspiration from the warm long beaches of California. Vibrant and alive…think eternal sunsets, dramatic cliff tops… and the West Coast surf.
Whether at noon or at night, the SoCa menu offers something different each week. And for the diet conscious, our Salad Bar offers a healthy and affordable alternative.
SoCa is also available for parties and for large groups. They can even design a menu to your specification.
Soca is open every night during the peak season from 7pm.
For winter hours check their facebook page.
€ – From 10 Eur per person
Send a message to Soca Sitges
Recommended Restaurants
Download the Gay Sitges Guide App!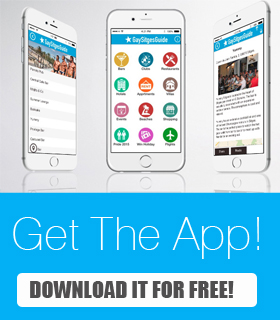 SAVE UP TO 70% ON HOTELS
Find a hotel deal today!
2,574,000+ hotels, homes, apartments, and other unique places to stay...